Publications
The road to recovery: Old Damascus has a long history of rising from the ashes
Alsalloum, Ataa (2017). The road to recovery: Old Damascus has a long history of rising from the ashes. The Conversation, 16th March 2017
Introduction
As a Syrian architect, my enjoyment is complete when I wander through the districts of Old Damascus. I used to walk with my daughter and tell her stories about each significant place we passed. In Old Damascus – one of the longest inhabited cities in the world – 5,000 years of history come alive. The tight network of traditional streets are complemented by stunning architectural masterpieces, such as the ancient Umayyad Mosque (completed in 715AD), the Roman Temple of Jupiter and the Byzantine arches.
Al Asruniyeh souk was our favourite destination on special occasions. Al Asruniyeh is a commercial neighbourhood located between the Citadel of Damascus and the Great Mosque of the Umayyads, inside the walls of the ancient city. The souks of Damascus are part of daily life – bustling marketplaces where political, social and cultural differences are forgotten.
Yet since the start of the armed conflict in Syria six years ago, much has changed in my home town. Although the city remains relatively safe compared to other parts of Syria, many have fled, lives and livelihoods have been lost and treasured cultural heritage has been destroyed.
In April 2016, a fire raged through Al-Asruniyeh. For the local community, losing part of Old Damascus is like misplacing part of their own soul, their memory and identity.
Yet history has shown that despite attempts to destroy Damascus, it has always risen from the ashes, stronger and brighter, powered by the local community. Time and time again, the Damascenes have proven adept at rebuilding their lives and their city in the wake of disaster.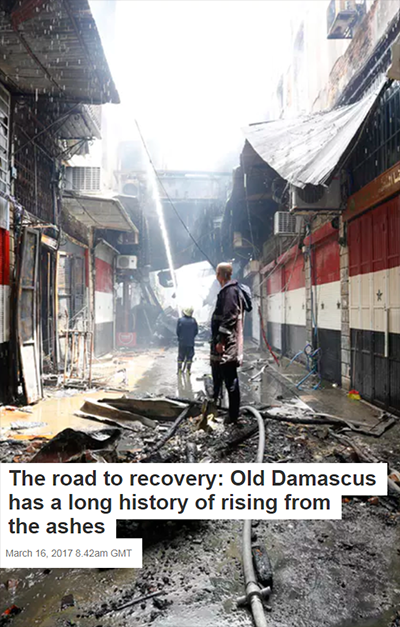 | | |
| --- | --- |
| Author(s) | Ataa Alsaloum |
| Country | UK |
| Language | English |
| Subject | – |
| Area covered | Damascus, Syria |
| Publisher | The Conversation Trust |
| Publication date | 16 March 2017 |
| Type | Magazine Article |
| Pages | 10-13 |
| ISBN | – |