Publications
Documentation and Heritage Management and Development Plan: Harat as-Sulayf, Ibri Oasis
Bandyopadhyay, S., Quattrone, G., Goffriller, M. S., Reza, H., et al (2013). Documentation and Heritage Management and Development Plan. Harat as-Sulayf, 'Ibri Oasis, Dakhiliyah Governorate. 
Summary
This Heritage Management Plan builds on the extensive fieldwork documentation carried out on site and on the experiences gained at other settlements, as well as on interim field report submitted on December 17th 2012. Alongside providing a comprehensive drawn documentation resulting from the survey documentation in October 2012, this report provides a strategic Master Plan, which addresses issues of heritage management, conservation and development, as well as approaches for its implementation.
The Heritage Master Plan discusses areas and categories of development and conservation to be carried out, which builds on a statement of significance, and assessments of the state of conservation and the threats to heritage management at Hārat as-Sulayf, building on the experiences of researching and developing a Master Plan for Hārat as-Saybanī in 2011 and Hārat al-Yemen in 2012. The report also includes a comprehensive inventory of structural and non-structural defects present at the settlement.
The overall project is informed by a comprehensive documentation, analysis and interpretation of the settlement structure, morphology, building typology and social conditions of the present and the immediate past. On this basis, a culturally and technically informed Master Plan is proposed, which advocates a revitalization centred on a dual approach concentrating respectively on the economic and the touristic preparation of the site. The settlement, in conjunction with its still well-preserved souq, has the potential of becoming an important tourist and economic centre for the greater area of the Ibrī Oasis.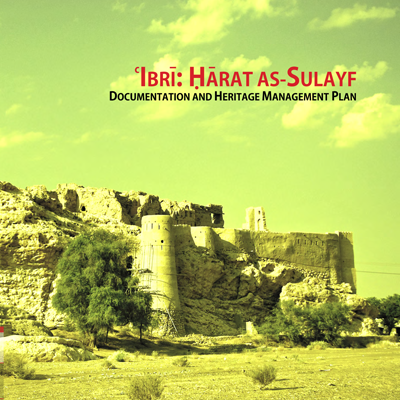 Related Publications by the Ministry of Heritage and Culture, Oman:
Ibri: Harat as-Sulayf
Documentation and Heritage Management Plan
ISBN: 978-99969-0-305-2